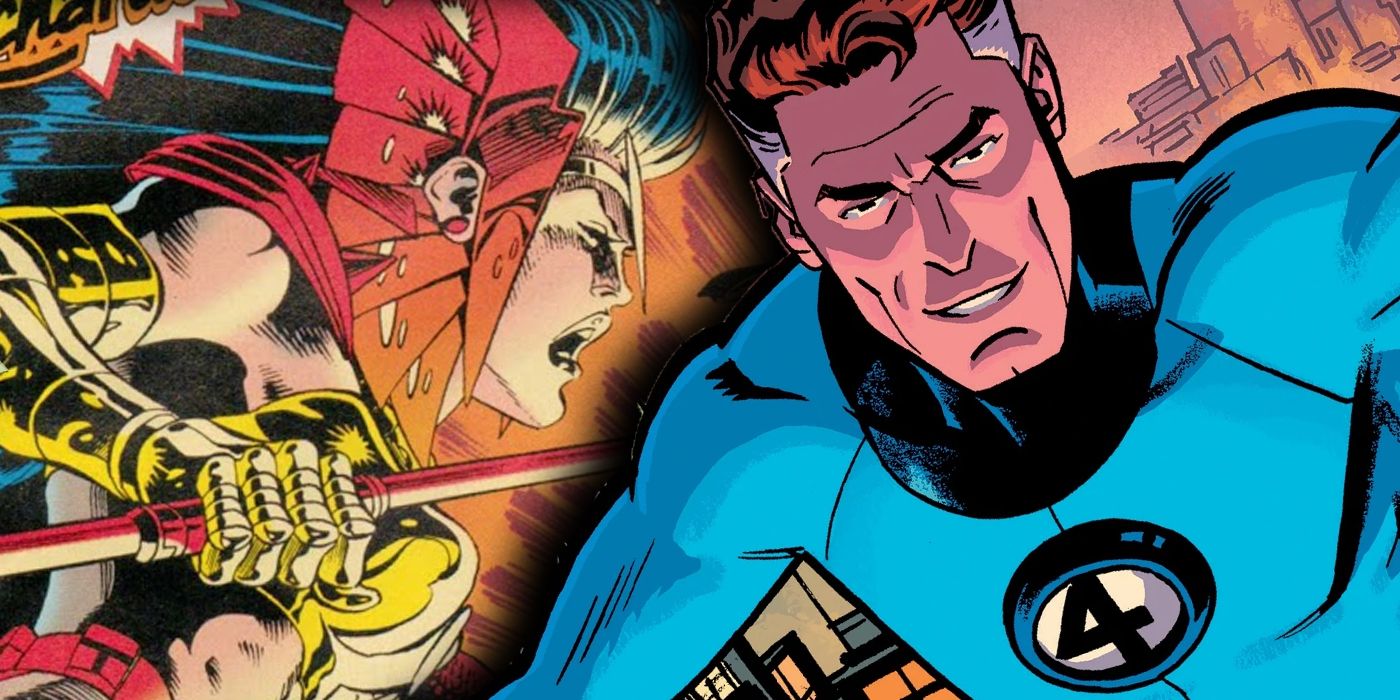 Fantastic Four: Who Was Reed Richards' Forgotten Sister, Huntara?
Today, we look into the mystery that was Reed Richards' supposed half-sister, Huntara.
In Left Unresolved, I spotlight storylines that have been, well, left unresolved.
REED RICHARDS LEARNS OF HIS SISTER
In Fantastic Four #35 (by Dan Slott, John Romita Jr., J.P. Mayer, Scott Hanna, Cam Smith, Rafael Fonteriz, Mark Morales, & Marte Gracia), the various versions of Kang are trying to find the pieces to put together to form some sort of device. Reed Richards, their ancestor, defeats them all and collects all four pieces and when he is finished, he receives a video message from his father, Nathaniel Richards, telling Reed that he has a sister and that he wants Reed to find and protect her…
Fair enough, but doesn't Reed Richards already HAVE a sister? Well…maybe…or maybe not.
THE DEBUT OF HUNTARA
RELATED: Scarlet Witch: WandaVision's Kids Are Somehow Teenagers in the Marvel Universe
In Fantastic Four #377 (by Tom DeFalco, Paul Ryan and Danny Bulanadi), we meet the mysterious being known as Huntara for the first time. She showed up right after Franklin Richards had disappeared and then re-appeared as a teenager calling himself Psi-Lord and equipped with a futuristic suit of armor. Huntara is looking to the destroy "the Four"…
Klaw cleverly tricks Huntara into joining a new version of the Frightful Four to take down the Fantastic Four (he pretends as though he wants to help her mission). During the battle, Huntara attacks Reed Richards and injures him badly…
Reed is then seemingly killed in an unelated mission and then, in Fantastic Four #382, we learn that Huntara and Psi-Lord know each other from the past and are apparently very close. She almost taunts him with who they are here in the past/present/whatever to deal with and when Franklin is shaken by their mission, she tells him that he should just come with her to Elsewhen. He rejects the offer…
However, it APPEARED as though their initial mission was to stop the Dark Raider, who turned out to be an alternate reality version of Reed Richards. In Fantastic Four #389, it looks like Franklin is letting her know that it isn't Franklin's Reed who is the bad guy. It is at this point that Huntara reveals that she is Reed's sister…
WE RECEIVE SOME BACKGROUND ON FRANKLIN AND HUNTARA'S PAST
In the following issue, we discover that Nathaniel Richards delivered his grandson and his son's half-sister (we don't know yet whether Nathaniel is her dad) to a mysterious warlord who then trained the two young children for their mission, training them into young adulthood…
Apparently, as he is wont to do, Nathaniel then went rogue and started doing his own plans and that's when Huntara turned on him. Up until this point, by the way, we're still at the point where we don't even know if Nathaniel is her dad or not, or if she is related to Reed through a shared mother instead.
Eventually, she and Franklin form a superhero team known as Fantastic Force.
THE FANTASTIC FORCE THROWS A CURVEBALL INTO THINGS
RELATED: Scarlet Witch: WandaVision's Kids Are Somehow Teenagers in the Marvel Universe
In Fantastic Force #2 (by Tom Brevoort, Mike Kanterovich, Dante Bastianoni and Ralph Cabrera), we met a new villain known as Zarathustra, who had a somewhat similar look to her as Huntara.
Subsequently, in Fantastic Force #7, Huntara runs into Nathaniel Richards and we get confirmation that she is his daughter…
However, soon after receiving that confirmation, we met a guy who claimed that Huntara was actually his long-lost sister, Mary Alvarez!
Her possible brother recalled when she was taken from him and it sure seems a whole lot like what happened when Nathaniel Richards took young Franklin, and Nathaniel Richards certainly seems like the type of guy who would kidnap a little girl if he thought that it would be worthwhile to his overall master plot (he is one of those big ends justify the means sort of people)…
However, Zarathustra ALSO seemed to be a really strong candidate to being the missing Mary Alvarez, as her master, Lord Moses, also had a similar armor to Nathaniel Richards (I guess that sort of armor was just popular during the time period. I think we've seen people wear similar stuff in Cable's time, as well), and she also, at one point, repeated a phrase that Paul Alvarez said (Paul was the guy who was claiming that Huntara was his sister)…
In Fantastic Force #13 (with Pino Rinoldi now on pencils), Huntara decides to return to live at Elsewhen and it is one of the all-time great unresolved send-offs of a character, as she is upfront about how she doesn't know if she is Tara Richards or Mary Alvarez, but she isn't particularly concerned either way…
The series ended for good three issues later (Zarathustra returned to Earth, as well, to live among the humans, so I wonder what happened if/when Paul Alvarez met HER).
In the final issue of Fantastic Four before Onslaught saw a reboot of a number of Marvel's superhero titles, Fantastic Four #416 (by Tom DeFalco, Carlos Pacheco and Bob Wiacek) featured a cameo by Huntara, who apparently returned to Earth just to help with Onslaught…
She was referenced in the aftermath of Civil War as a possible candidate for the Avengers Initiative, so she's still out there, but the question that is unresolved is whether she is Tara Richards, in which case Dan Slott MIGHT be referencing her in Fantastic Four #35, or if she is Tara Richards and there is a SECOND sister out there (which wouldn't be surprising, right? Nathaniel Richards seems like he gets around) or she is Mary Alvarez, in which case that Reed having an ACTUAL half-sister out there would be a bigger deal. I tend to lean towards just making her Mary Alvarez so that Slott's sister story can be novel.
Thanks to reader Bill M. for questioning this one when he read Fantastic Four #35.
If anyone else has a suggestion for a future edition of Left Unresolved, drop me a line at [email protected]!
KEEP READING: Scarlet Witch: WandaVision's Kids Are Somehow Teenagers in the Marvel Universe
REPORT: A Mystery Classic PlayStation Game Remake Is in the Works
About The Author
For all the latest Comics News Click Here 
 For the latest news and updates, follow us on Google News. 
Denial of responsibility!
TheDailyCheck
is an automatic aggregator around the global media. All the content are available free on Internet. We have just arranged it in one platform for educational purpose only. In each content, the hyperlink to the primary source is specified. All trademarks belong to their rightful owners, all materials to their authors. If you are the owner of the content and do not want us to publish your materials on our website, please contact us by
email – 

[email protected]
The content will be deleted within 24 hours
.