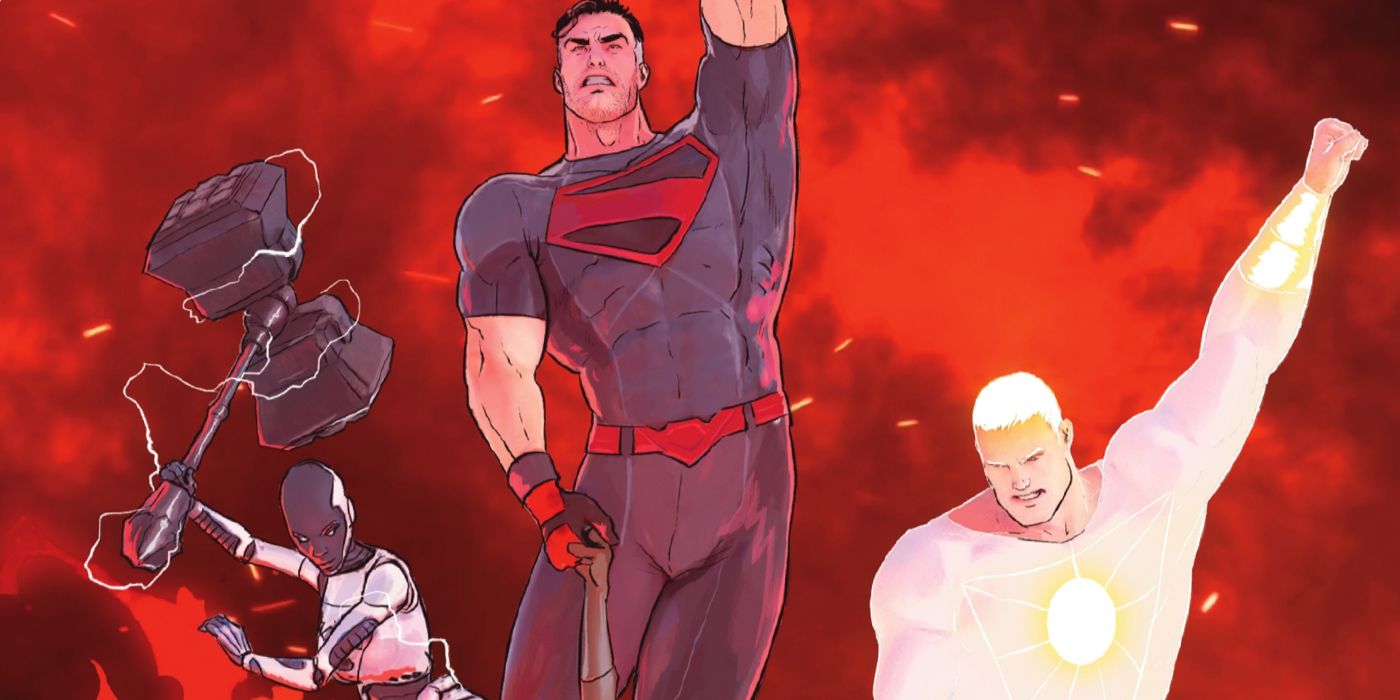 DC's Superman and the Authority: Grant Morrison Unpacks Its Epic Finale
WARNING: The following article contains spoilers for Superman and the Authority #4, on sale now from DC Comics.
Superman and the Authority, by Grant Morrison and Mikel Janín, has come to an end. The acclaimed comic book miniseries follows an older Superman that decides to form his version of the Authority. He's grown increasingly frustrated with how obstinate humanity has become — rather than actively trying to save itself and improve upon the usual status quo. The DC Comics miniseries quietly steps up the Man of Steel to take on the villainous Ultra-Humanite before he leads his new team to confront Mongul, as depicted in the pages of Action Comics.
In an exclusive, spoiler-filled postgame interview with CBR, Morrison shared their inspirations behind creating Superman and the Authority, explained their rationale with the final issue's major twists, and reflected on the fun of crafting the story. Also included with this interview is the standard cover and interior preview of Superman and the Authority #4, drawn by Janín, colored by Jordie Bellaire, and lettered by Tom Napolitano.
RELATED: Superman Reinvents a DC Multiverse Flash With a New Identity
Grant, with Superman and the Authority, you've got a Superman that isn't cynical but much more pragmatically realistic. How was it approaching this version of the hero compared to the young, working man's hero in your Action Comics run?
Grant Morrison: I think he's almost the same guy where he's lived through a life where he's met a bunch of superheroes and done all these things. It's the Superman we know but, as you say, there's a little bit more pragmatism to him. Why I relate him the most to the young Action Comics Superman is because he just got things done. One of the things I find interesting about Superman is that he always does the right thing, that's in his nature and his struggle is to accept that or to not deal with that. For me, Superman should always do the right thing and he just does it without thinking.
With this harkening back to that younger Superman, was that the impetus to bring back Ultra-Humanite, the original, recurring Superman villain?
Pretty much!
He was the first and I also liked the idea that Ultra-Humanite reproduces himself through different bodies. Superman is very much this singular body, like Charles Atlas' superman; he's a very unique individual and Ultra-Humanite is someone who propagates through other people and things. I thought I'd play up that aspect of the character and not just give him multiple bodies but different brains, this thing is just reproducing itself. It's kind of like the network of distributed intelligence, the slime mold versus the individual man. It just seemed like it would be an interesting way of positioning the two characters.
With this story, Superman is entering his twilight years and facing his own mortality, which was a similar theme in All-Star Superman after he was overexposed to sunlight. What is it about taking this demigod after having him confront his mortality that you find interesting?
Some of the best Superman stories were those imaginary ones where it was the death of Superman or Superman splits into two people where there's an ultimate conclusion. With All-Star, he was facing his literal death and in this one, he's middle-aged, older and has a son in-continuity now: it's the idea that he can escape the expectations that people have now that his son is wearing the suit and doing the Superman thing.
It's more about a middle-aged Superman rather than a dying Superman. Although he's losing his powers, he's thinking of ways to deal with it. If he's losing his powers, he'll recruit a team to replace his powers and he can be Doc Savage, it's slightly different. I think what's interesting about exploring that is there seemed to be an idea from the audience that Superman is always too perfect which is ridiculous. He's no more powerful than Thor or any of those other powerful characters but Superman always gets a hard time because he's the first.
I think it's interesting when you're in a position where you can remind people that he represents us at our best and the way we do things at our best: Here's how he deals with dying, here's how he deals with being a young guy, here's how he deals with being middle-aged. He's always going to be Superman looking at things we experience and finding ways to deal with them and make them useful and worthwhile. That's what I like about those end-of-times stories because even though Superman is running out of power: he's still doing it, still being Superman. He's still inspiring people and he'll do that until he dies laying on some bed glowing green.
RELATED: Superman: The Authority's New Headquarters is Better Than the Hall of Justice
As someone that's previously written the Authority, how was it taking established DC characters, like Natasha Irons, and slightly repositioning them to take roles similar to the classic Authority?
I started with Manchester Black and thought that Manchester Black kind of takes the place of Jenny Sparks from the Authority. Manchester was a pastiche of Jenny Sparks, I thought that version of him in "Whatever Happened to Truth, Justice and the American Way?" was a version of her and thought there was an interesting dynamic between Superman and Manchester Black. I thought, with Jenny Sparks dead long ago, what if the lead dynamic in this was between Superman and Manchester Black and it was really intense and antagonistic? Once I had that idea, it was about can we do the Authority but with DC analog characters to fill those same slots? For magic, instead of the Doctor, we have the Enchantress and instead of the flying super-speedster Swift, we have Lightray and so on. It became a fun exercise to find DC characters from the back catalog that could fit the team slots of the original Authority.
While you do cover and resolve a lot, there's also a lot of story that we don't see by the end. As a fan of your work and especially your DC work, do you have any plans to come back and revisit these untold tales and fill in the space?
There are a lot of stories there and things that have opened up and fortunately editorial has that document suggesting ways of moving forward with those plot elements. [laughs] But no, I wanted to set things up. My favorite comics are the ones where you come in in the middle of the story. I would pick up these things and it was Part 2 of a story between the Justice League and Justice Society and I had no idea what was going on but it was so interesting and my mind would fill in the blanks. I liked the idea of going out on that sense of ambiguity and that there's so many stories to be told and so many avenues to be explored.
"Lightray is," what the hell is that? We've been hearing "Darkseid is" for two centuries and now we finally have something to replace it. It was a deliberate desire to create space that other people could occupy which what I love about the DC Universe. These long-running universes, we get to contribute to it and we can pass on batons as we do the race. Sometimes you do a perennial story that you want to live forever and sometimes it's a story like this where it inhabits a particular time.
How was it working with Phillip Kennedy Johnson and making sure that your story linked up to what he's doing with Warworld and Mongul in Action Comics?
It was great because he gave me a way to end the story, the notion that a more proactive Superman would change the world. He could change the world in a week but then the comics would move further in the realm of science fiction and maybe slightly too far because I think people want heroes to be operating in a world that is a little their own, with problems like their own. You're always up against that barrier where Superman can't change the world otherwise you're doing Miracleman, that kind of story.
What I loved is that Phillip was like, "These are allegories so let's see Superman taking down a tyrant but he's on another world!" I thought that was great. It's how it used to be — these were stories that were allegorical and symbolical.
The notion that you could get the same thrill of watching Superman take down an authoritarian regime but you put it on another planet so it doesn't seem as crass that Superman could solve all our problems but you can put him on a planet where he can solve the problems of some ridiculous, symbolic problems of human nature, I liked that. It really worked and gave me an ending to the story that was different but it did what I wanted. It took it out of what Superman has been doing for all these years fighting the same Brainiac and Luthor but leaves it behind to say he's going to take it on a higher metaphorical level.
RELATED: Superman's Boyfriend's Powers Play a Key Part Role in Their Relationship
As someone that has written mulleted Superman, electric blue Superman, a Superman at the end of his life, one at the start of his career and now a middle-aged Superman, what are the constants you see with the character and what has changed as your perspective has changed over the years yourself?
As you get older, you have different views on everything and you also have your previous views so you can assign them to different characters. [laughs] With Superman, I always keep in mind that he represents the best of who we are and that's what makes it work. I think there's no point in trying to humanize characters like Superman because there are no humans like that that exist but it does exist in stories and it's amazing that this notion exists. For me, it's always been thinking up to that notion of what if he does exist, this good guy that doesn't have all those shadows. He's got weird things because he's alien but he's a good guy, you're putting yourself in that position.
For me, it's what's the story of a good guy who's dying or facing middle-age and getting sick of the idea that humans are pulling through in the way that he hoped. What's the best of that? How kind, compassionate and understanding can he be? That's my keystone for Superman, he's us at our best.
What I love about this final issue is you bring in Lois Lane because, for a lot of the story, Superman is an island unto himself. While All-Star Superman had their relationship as its emotional core, how was it bringing her into this where they're married and have a family of their own?
I wanted to do it because all the other stories of Superman, where he's rethought the mission or something terrible has happened and he's decided to lay down the law, usually with Lois dying. In this, I liked the idea that she's alive and there's this sense that she's not around while he's doing all this stuff with his friends and suddenly his wife turns up and she's been doing stuff and you realize why the environment in Kandor has been switched off and Superman still has his powers, it's all there, I just wanted to do that on the way out. I advocated for the marriage, back in the day, when Mark Waid and the others were going to do Superman and thought we should just deal with it to see what it was like.
This is a Superman and Lois that have known each other for a long time. They have this banter going on. They have a son and they're older people. I thought it was important to have her in there and also saving Superman because that's what she does and she's also looking after the boy. She's there, researching Kryptonian history and trying to get all that across really quickly. Even that last scene where we see her and Superman disappear from Kandor, it's meant to echo Jor-El and Lara when Krypton is being destroyed so it brings it all back of him vanishing from this doomed world through a tiny portal in a universe of what might have been.
RELATED: Tom Taylor Says Not Making Superman Bi Would Be a Missed Opportunity
Just switching real quick to another DC property you worked on, Doom Patrol just launched it's third season and it's so wild to me that there's a Doom Patrol television series — something I thought could only work in comic book form for years.
I pitched Doom Patrol to Warner Bros., like, ten years ago, and was told that it was wackadoodle and impossible and nobody would buy into this. I'm kind of vindicated by the fact that people love the show. The Doom Patrol, it's very clear what they are: they're a therapy group of messed up people that happen to have superpowers and that's why it really works.
Most of us feel we're super-people but also messed up and they've always appealed on that level. There's something kind of broken but they pull together to make themselves feel worthy of something and be a super-team but they're not really. They're a therapy group. That's what I think people like about it. They don't have the airs of other superheroes. This isn't the Avengers.
Now that this book is done, what are you most proud of in getting to add it to your canon of Superman work and what can tease about with your next projects?
I'm really just glad that I did it. I just wanted to show a version of Superman that was different but didn't have to slide into authoritarianism as he grew older.
I loved working with Mikel Janín and Jordie Bellaire. I was kind of treating it like a joke, I have to admit, like parody comics. But when I saw the artwork I thought that it demanded a few more layers of interpretation and allusion, that work that we did in really fresh, contemporary superhero comics — all of that, I'm quite pleased with. Usually I hate every second line but, in this book, there's only one line I'd like to change and I will when the [trade paperback] comes in. [laughs] I'm really pleased with it and happy that it's tongue-in-cheek and funny but drawn in a serious, important way that works. I don't have anything coming up, in terms of comics, but I am doing some secret projects in the background.
Written by Grant Morrison and with artwork by Mikel Janín, Superman and the Authority #4 is on sale now from DC Comics.
KEEP READING: When Did Superman Save a Villain from Death for the First Time?
Doc Ock's Biggest Spider-Man 2 Moment Should Be Acknowledged in No Way Home
About The Author
For all the latest Comics News Click Here 
 For the latest news and updates, follow us on Google News. 
Denial of responsibility!
TheDailyCheck
is an automatic aggregator around the global media. All the content are available free on Internet. We have just arranged it in one platform for educational purpose only. In each content, the hyperlink to the primary source is specified. All trademarks belong to their rightful owners, all materials to their authors. If you are the owner of the content and do not want us to publish your materials on our website, please contact us by
email – 

[email protected]
The content will be deleted within 24 hours
.