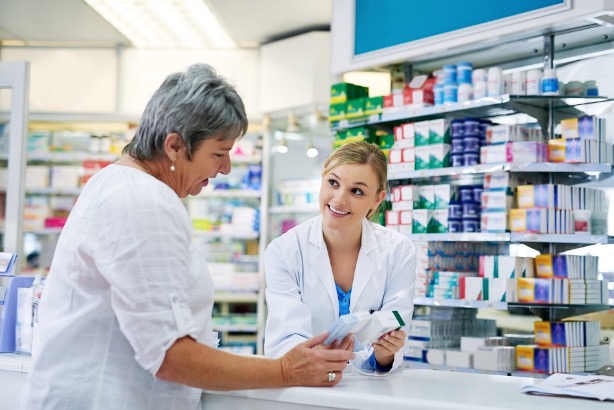 Exploring diverse career paths in pharmacy: From retail to research
Pharmacy is an integral part of healthcare, as pharmacists offer invaluable support in promoting good health and patient safety. Subsequently, the demand for pharmacy professionals has steadily risen. From traditional roles such as community or hospital pharmacists to non-traditional roles within academia or the pharmaceutical industry, the pharmaceutical field presents an abundance of opportunities to specialize in. This article investigates pharmaceutical career paths in greater detail, delving into the necessary qualifications and skills for each role and providing guidance on how to pursue one's desired pharmacy career.
Traditional pharmacy jobs
Retail or community pharmacists

Retail and community pharmacists are an invaluable resource, providing essential medication and expertise to countless patients. Working in a variety of settings, such as drugstores, supermarkets and more, they ensure the accuracy of prescriptions, dispense medications and provide knowledgeable advice regarding safe and effective usage.
Education and training requirements

The path to becoming a retail or community pharmacist starts with obtaining a Doctor of Pharmacy (PharmD) degree from an accredited institution. This distinct pathway to success involves four years of post-secondary education, including two years of pre-pharmacy classes and two years of professional pharmacy instruction. After completing their degree program, pharmacists must also pass a licensure exam in order to practice in their state. Investing in this multifaceted education is the first step towards a rewarding career in pharmacy.
Hospital pharmacist

Working closely with doctors, nurses and other providers in hospitals, clinics and long-term care facilities, hospital pharmacists help ensure optimal medication use for all hospitalized patients. They provide invaluable guidance to staff and families, ensuring that medications are administered safely and effectively. Joining this vital field puts you on the frontline of advancing quality patient care.
Education and training requirements

For aspiring hospital pharmacists, the path to success begins with a Doctor of Pharmacy (PharmD) degree and culminates in an immersive post-graduate residency program. Lasting between one and two years in duration, residencies offer unique opportunities to gain specialized insights into the ins and outs of hospital pharmacy practice.
Hospital pharmacists duties include:
Reviewing medication orders
Dispensing medications
Monitoring patients
Collaborating with healthcare teams
Clinical pharmacists

Clinical pharmacists offer expert guidance to help ensure every patient receives optimal medication therapy. Utilizing crucial understanding of medication therapies, they collaborate closely with doctors and other healthcare professionals to develop customized treatment plans designed to optimize patient outcomes.
Education and training requirements

An online Pharm D from a credible university, such as the University of Findlay, is a great starting point for those aspiring to become clinical pharmacists, followed by advanced training in a post-graduate residency program. University of Findlay's online Doctor of Pharmacy program typically takes four years full-time and provides online coursework, on-campus immersions and experiential learning.
The key responsibilities of clinical pharmacists include:
Conducting medication therapy management
Providing medication counseling
Participating in patient rounds
Non-traditional pharmacy jobs

Pharmacy work is not limited to retail or hospital contexts; the pharmaceutical industry offers a whole range of non-traditional roles for pharmacists. By venturing into this unchartered territory, you can explore a world of opportunities that spans from research and development to regulation and beyond.
Pharmaceutical industry

The pharmaceutical industry is a vital hub of innovation and progress. Professionals, such as pharmacists, are integral to the development, production and marketing of drugs that improve the lives of those in need. The roles are multifaceted, encompassing medical science liaison, drug safety specialist, and regulatory affairs specialist.
Education and training requirements

Pharmacists looking for an exciting career beyond traditional pharmacy practice may benefit from specialized training in drug development, clinical research and regulatory affairs. With the right education, these professionals can leverage their expertise to play a vital role in the pharmaceutical industry.
Academic pharmacy jobs
Pharmacy educators

Pharmacy educators perform the essential task of training and educating pharmacy professionals. From student pharmacists to practicing professionals, these knowledgeable instructors impart their expertise through a range of activities, such as designing curriculums for classroom learning, offering specialized in-depth courses and workshops and facilitating continuing education programs.
Education and training requirements

A Doctor of Pharmacy (PharmD) degree is the standard educational qualification for pharmacy educators. Many also possess specialized training and certifications in the field of education, providing them with an even deeper understanding of the subject area.
Research scientist

As a research scientist in academia, you are tasked with the thrilling challenge of pushing the boundaries of scientific knowledge. To do this, you must develop winning research proposals to secure funding for your projects and then conduct experiments to collect data, analyze the results and draw conclusions from your findings. In addition, you must publish your discoveries in esteemed academic journals and share your work at conferences.
Education and training requirements

The research scientists in academia are distinguished by the possession of a Doctor of Pharmacy (PharmD) degree, and often boast additional educational accreditation in specialized research methodology.
Specialization pathways in pharmacy

Pharmacists looking to extend their reach in providing personalized care to patients may pursue specialized training and certification in diverse areas. By deepening their knowledge in a particular sector, pharmacists can gain greater insight into the complex needs of their clients and offer tailored services. With the proper expertise, pharmacy professionals can maximize their impact and contribute to delivering top-quality patient care. Areas of specialization in pharmacy include ambulatory care, critical care, oncology, pediatrics, psychiatry, nuclear pharmacy, and geriatrics.
Education and training requirements

Further education and training are often required when pursuing a specialized career. Pharmacists may complete a residency program, which generally spans one or two years or choose to complete a fellowship program that offers further experiences in research and specialized practice. Some fields will also require certification from organizations such as the Board of Pharmacy Specialties before practitioners can begin their practice.
Final words

Pharmaceutical professions offer an abundance of opportunities to pursue a rewarding career and specialize in various areas. From providing direct patient care in hospitals and retail pharmacies, to working as medical science liaisons or regulatory affairs specialists, there is something for everyone. As the field advances, pharmacists must stay abreast of the latest technologies and healthcare models through continuing education and professional development to deliver the best care. If you are interested in pursuing a career in pharmacy, there are many different job pathways available. Explore your options and discover the numerous ways you can make an impact in peoples' lives.