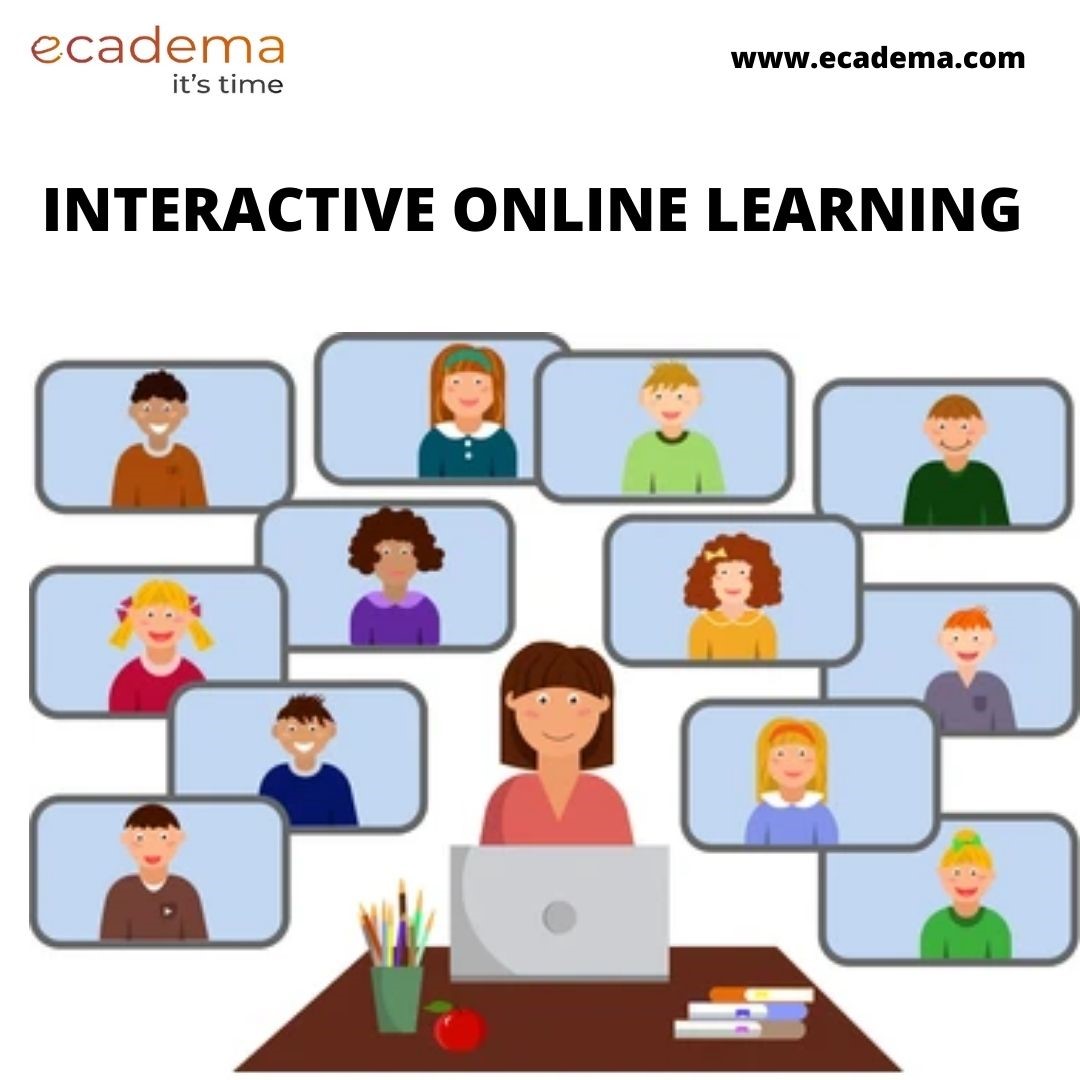 Essential Elements Of Interactive Online Learning | ecadema
The biggest challenge facing today by educators is constantly dropping learner attention with the time span. This article focuses on enhancing interactivity approaches to address this challenge and engaging them through learning sessions.
Today we will discuss essential elements of interactive learning.
 Undoubtedly, dealing with the constantly dropping learner attention is a prominent issue to be addressed promptly.Since there is no human touch involved during online learning, and learners' reaction in person is not accessible, hence interactivity could be the best solution to ease this problem.Various touch points during an interactive course compel learners to interact with the content, and also increases engagement. Instructors can motivate learners towards critical thinking, problem-solving approach, and long-term memory activation. This helps students to retain and apply the knowledge after the course.
 Here we discuss some of the essential elements of interactive learning modules.
Games
 Games are an exceptional fun learning tool that can be used to motivate learners to perform better. Learners seek risks, challenges, rewards, and recognition during game mechanics.Gamification usually allows learners to be learner-centric, self-directing, and encourage the discovery of knowledge through exploration. Create a playable game for learners around our subject matter and make them highly proficient by mastering it.
2.Quizzes And Assessments
 Interactive assessments with immediate feedback will allow the earners to measure their progress and further promote learner's engagement.
Assessments and Quizzes platforms provide learners to test knowledge, measure their performance, provide feedback, and reinforce key concepts. Educators can build online interactive stellar learning quizzes to choose from a variety of formats like multiple choice questions, rapid-fire round, fill-up questions, drag and drop, visual assessments, mind maps, etc.
Scenarios
 Use real-life Scenarios that emphasize the learning objectives and the learners through a real-life situation, making them memorable. Real-life scenarios promote in-depth learning and make learners respond to a given situation. Goal-driven, fact-based, and branching scenarios promote immersive learning scenarios, these learning formats you could deploy for building interactive and engaging real-life scenarios.
4.Activity-based learning
 Activity-based professional online learning enables learners to demonstrate their knowledge during the session. Instructors can employ challenges, case- studies, and scenario-based concepts or topics to drive learners to apply their knowledge.
Simulations
 Simulations promote the concept of professional online learning through real-work applications and include real-life processes to make learner's practice in a risk-free environment. Instructors can include simulations through a critical concept, picture, text, and video, and screen-component-based simulations process, or role-based procedure, and are considered as the most preferred types of interactive digital simulations.
Videos
 Videos form an interactive element that guides the learners to solve learning challenges by employing video-based learning, reconstruction of incidents, or footage of real incidents.Videos are the smartest communication tool today to harness the power of learning. Videos are powerful and can turn passive content into an active experience for better and faster engagement of learners as compared to any other interactive medium.Interactive videos take the experience to the next level and notch higher to transform the traditional learning from a monologue into a dialog. These videos can be laced up with features like skip navigation, informative overlays, and quizzes, and feature engaging user interactions.
Feedback:
Assessments give learners the opportunity to measure their performance, feedback allows course developers to know how well the course is performing and help impart their new knowledge or skills. Educators can use this data to continuously improve courses to better suit the audience to create an optimum learning experience.
Since you have already taken the step to create a digital learning program, using interactive elements to deliver courses and reinforce learning leads to successful eLearning courses. Feedback helps in learning a complete learning cycle and helps to achieve optimal performance.
Interactive professional online learning is based on the learner's interaction with the content to achieve the desired objectives to progress in the right direction. Interactive learning helps learners to have hands-on experience with course-related activities. You as an educator need to explore the kind of interactive element(s) to include in your course or what interactive elements can be used along with a traditional skill-based approach or by using a rapid interactivity builder.
Due to the myriad of human choices available, it is merely impossible to promote only one choice at a time. Interactive tools allow to target specific groups and help to create a tailor-made experience resulting in individual tweaks.Score assessment and analyze each and every test to come across the elements that can be useful and interactive. Interactive online learning promotes communication allowing the educator to address any problems and helps to accomplish extensive interactive learning solutions.
Listed some points that can help capture learners' attention during the professional online course includes:
Thought-provoking or a short survey questionnaires
Sharing an unpredicted, insightful fact
Activity based engaging activity enhancing learning process
Fascinating introductory video clip to grab and hold interest
Challenges:
Challenges push instructors for engaging and interesting content, increase motivation, and compelling learning. A most crucial feature of interactive online learning focuses on the needs of the learner, which further can help learners to retain the knowledge gained during an interactive session.
Try to draw inspiration from similar projects, if you are unsure about them. For example, designers can follow diversity training as learning strategies that can and also work for your module.
Try to include the interaction that is well suited for your course, keeping factors in mind like time, your budget, and most importantly your creativity. Finally, test your interactions to evaluate their impact on your learners.