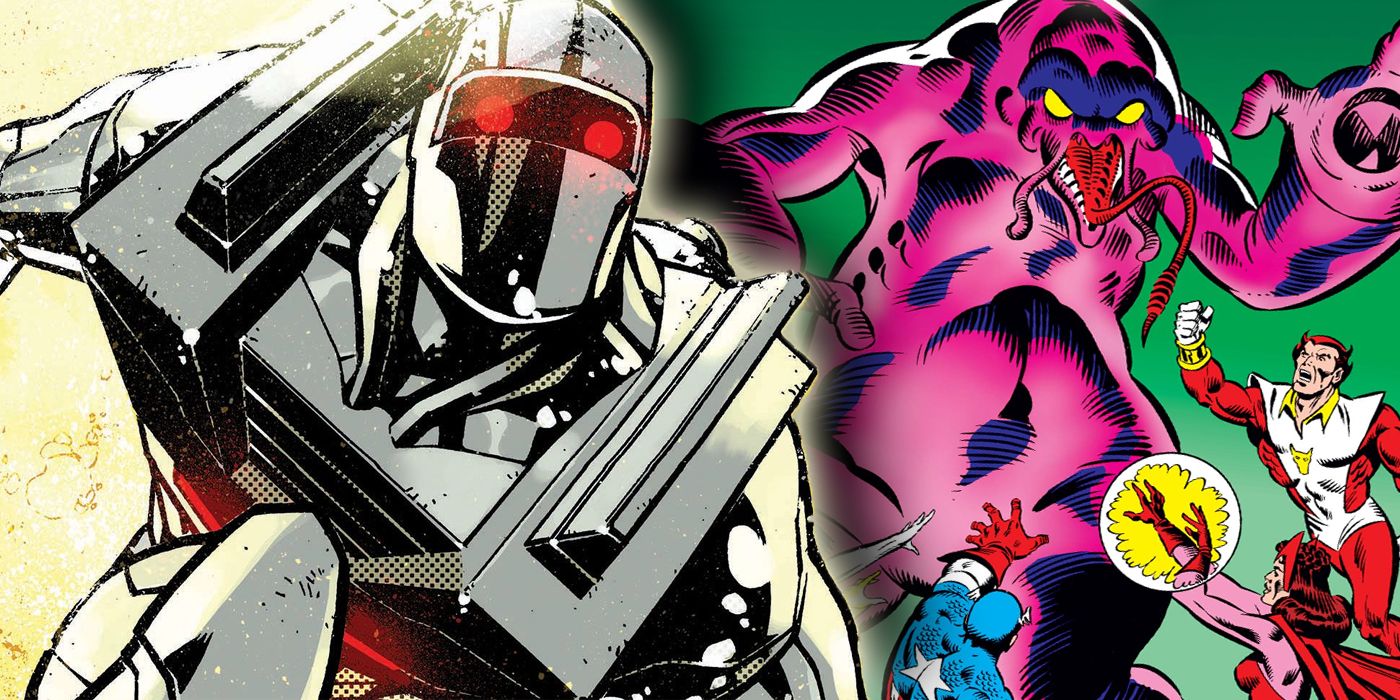 Did Marvel Give Hasbro the Rights to Rom's Villains, the Dire Wraiths?
In the latest Comic Book Legends Revealed, find out how Hasbro now has the rights to the Rom villains, the Dire Wraiths, instead of Marvel.
Welcome to Comic Book Legends Revealed! This is the eight hundred and thirteenth installment where we examine three comic book legends and determine whether they are true or false. As usual, there will be three posts, one for each of the three legends. Click here for the first part of this installment's legends.
NOTE: If my Twitter page hits 5,000 followers, I'll do a bonus edition of Comic Book Legends Revealed that week. Great deal, right? So go follow my Twitter page, Brian_Cronin!
COMIC LEGEND:
Hasbro now has the rights to the Dire Wraiths characters from the Rom comic book series.
STATUS:
True
Recently, I did a poll on my Twitter account where I asked people which Marvel characters that they missed the most due to the fact that Marvel no longer had the license to use those characters and a few people were wondering why I include the Dire Wraiths among the options and so, well, this is that explanation.
In 1979, as part of then-burgeoning era of electronic toys, Parker Brothers decided to expand out of their niche of just selling board games to also try to get in on this new electronic toys stuff, by cutting a deal to release a robotic electronic action figure called Rom: The Spaceknight.
The toy ran on 9 volt batteries and it had a number of accessories that would make certain noises when you attached them to the figure and, of course, the eyes of Rom would glow red. The articulation was REALLY basic to make the toy cheaper to make.
Parker Brothers then cut a deal with Marvel where Marvel would do a licensed comic book series that would come up with a back story for Rom that could help promote the toy, while also being the basis for an interesting comic book series.
RELATED: Captain Marvel's Iconic Costume Redesign Has a Bold Secret Origin
Writer Bill Mantlo and Sal Buscema had Rom be an alien sent to Earth to help track down his mortal enemies, the Dire Wraiths…
The problem was that the Dire Wraiths were shapeshifters who took on human form and when Rom teleported the Dire Wraiths to the Limbo dimension with his Neutralizer, it really looked like Rom was a villain showing up disintegrating human beings…
Luckily, Rom had a number of human allies who believed in his mission and so not everyone thought he was attacking humans all of the time.
RELATED: Justice Society: How The End of World War II Shook the Comic Book Up
Interestingly, in those early days, there wasn't a consistent look for the Dire Wraiths in the actual comic books, as since they were shapeshifters, artists just sort of drew whatever they felt like, as in Rom #25…
However, eventually the Dire Wraiths expanded and became a threat that other comic book titles had to deal with (when you think about it, it is hard to imagine the other Marvel superheroes NOT getting involved in something like an alien invasion of Earth, right? The Dire Wraiths were basically like a more evil version of the Skrulls). In a lot of ways, then, the Dire Wraiths had a bigger impact on the Marvel Universe than Rom himself, as the Dire Wraiths appeared in plotlines in comics independent of Rom (while the superheroes also teamed up with Rom frequently to take on the Dire Wraiths), such a plotlines in both the Avengers and the Uncanny X-Men…
Now, for years, since Marvel came up with the Dire Wraiths independent of Parker Brothers, when Marvel eventually let the Rom license lapse when the book was canceled after a number of years and Marvel was no longer able to use Rom, it continued to use the Dire Wraiths (not as frequently as when Rom was around, of course, but still relatively frequently). As recently as a decade ago, Jonathan Hickman was using the Dire Wraiths as part of a plot line where Black Bolt was forced to marry some females from a few different alien species, including the Dire Wraiths.
However, a few yeas back, Hasbro (who bought Parker Brothers) attempted to trademark the Dire Wraiths itself as part of its claim to Rom the Spaceknight and as Rich Johnston at Bleeding Cool noted, Marvel initially filed a formal objection to Hasbro's trademark registration and things got as far of getting a trial date started before Marvel decided to withdraw their complaint.
Obviously, some sort of deal was made between Marvel and Hasbro, but I couldn't even begin to imagine what the specifics of such a deal was. However, the end result was that when IDW acquired the license to do NEW Rom comic book stories, IDW was not only able to use the Dire Wraiths as the villains in this new series, the villains even received their own miniseries by Chris Ryall, Luca Pizarri, Guy Dorian, and Sal Buscema, with Buscema returning to the Rom characters for the first time in many years)…
Now, it is possible that Marvel worked out a deal where it is able to continue to do new stories with the Dire Wraiths as WELL, or at least continue to reprint its past stories featuring the aliens (currently, Marvel often will skip out reprinting issues that Rom guest-starred in)? I really don't know the specifics, but since Hasbro was able to go through with the trademark claim, it is presumed that Hasbro currently controls the main rights to the Dire Wraiths.
CHECK OUT A TV LEGENDS REVEALED!
In the latest TV Legends Revealed – Find out whether the idea for the TV series, Kung Fu, was stolen from Bruce Lee.
PART THREE SOON!
Check back soon for part 3 of this installment's legends!
Feel free to send suggestions for future comic legends to me at either [email protected] or [email protected]
KEEP READING: Was Black Lightning Blocked From Being on Justice League Unlimited?
Avengers: Why Marvel's Infamous '90s Reboot Had Two Thors
About The Author
For all the latest Comics News Click Here 
 For the latest news and updates, follow us on Google News. 
Denial of responsibility!
TheDailyCheck
is an automatic aggregator around the global media. All the content are available free on Internet. We have just arranged it in one platform for educational purpose only. In each content, the hyperlink to the primary source is specified. All trademarks belong to their rightful owners, all materials to their authors. If you are the owner of the content and do not want us to publish your materials on our website, please contact us by
email – 

[email protected]
The content will be deleted within 24 hours
.